[MARVODIY] Red Samurai Keycap Set
good quality
Overall, very good quality kepcaps for the price. They feel great, sound great, and are packaged fantastically. I am happy with the set overall though.
Overall, they're nice
GMK is considered one of the best manufacturers for custom keycaps, but they're definitely overpriced -- and this set is even more expensive than usual GMK group-buy sets because it's kept in-stock year-round by Drop. For most beginners, this, Red Samurai, and GMK Laser might be some of the only GMK sets you can buy right away.
But you shouldn't. At least, not without research and knowing this is exactly what you want: A GMK-quality set, with this specific kitting, in these exact colors, RIGHT NOW.
If you need keys that aren't included (check very carefully), this set isn't for you.
If you don't like the true-to-life colors (check review photos here, and photos on r/mechanicalkeyboards by searching "GMK Blue Samurai" there), this set isn't for you.
If you don't want or need to spend $100 on keycaps right now, this set isn't for you.
I used these for a build for my partner, and they worked great. He really liked the color of this set, and needed a set quickly. Had all the keys we needed for a YMDK split 75% build, including split spacebar support. There are some limited amounts of keys in the right profiles though, and the base kit doesn't come with novelties. The novelty kit is wayyyy overpriced and he wasn't sold on them, so we skipped it.
i LOVE THIS SE
i LOVE THIS SET i always wanted this exact one. This opened up the gates for me to be able to see the possibility and capabilities of custom keyboards
satisfied
I've tried numerous keycap sets in the past couple of years and this is by far the best I've used. They look and feel amazing. Just be wary of the layout, since not all 65% layouts are the same (65% in my case, can be the same for other layouts). It didn't all fit mine perfectly but I can't blame the keycaps since I should've checked beforehand. Substituting some of the keycaps with others does work quite well. Overall quite satisfied with the product!
Great cap set - crisp legends and great colour density
You definitely get what you pay for, really great keycaps, doubleshot abs so I dont have to worry about the legend on keycaps fading overtime.
Strap on some armor, unsheath your katana, and prepare to defend your desktop, which features a striking colorway evocative of a Japanese warrior's armor. The fierce combination of red and dark gray with golden accents and legends will complement any keyboard, especially dark ones.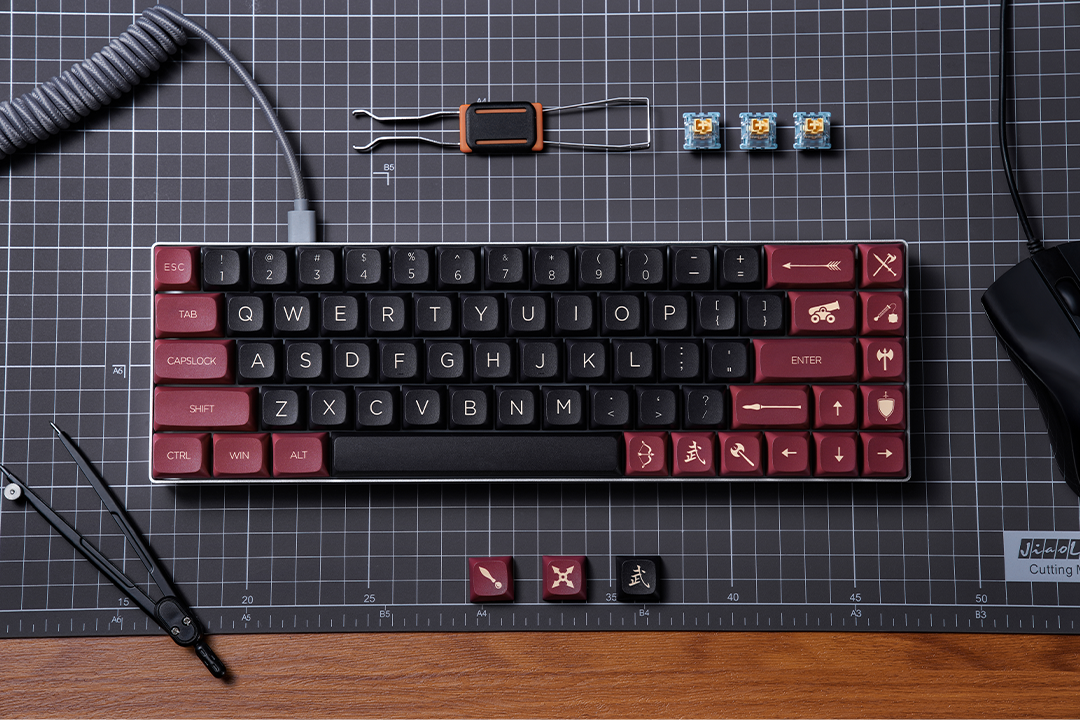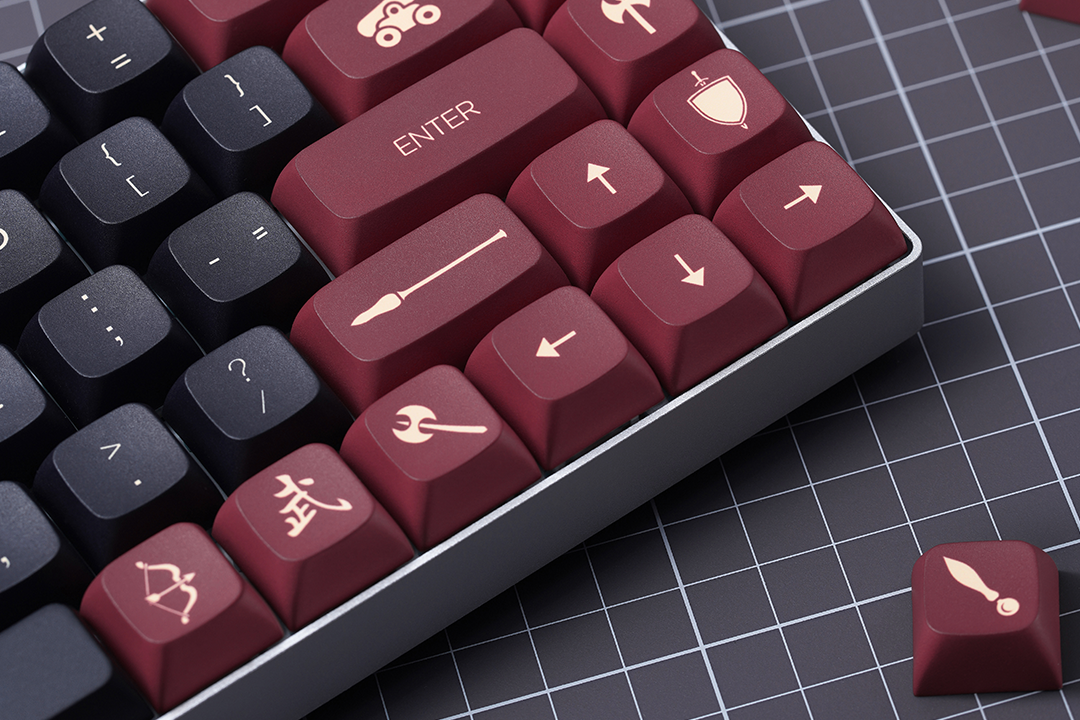 Made from PBT plastic with dye-subbed legends, they're ready to take on your most demanding typing tasks.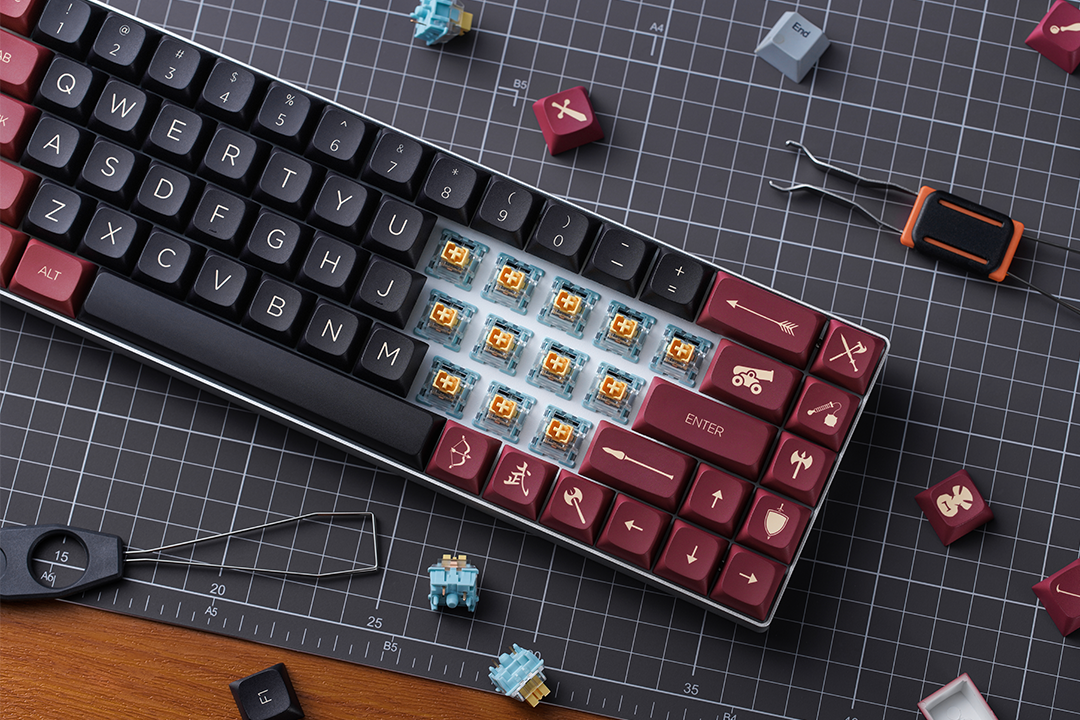 Suitable for 61 / 64 / 87 / 104 / 108 keys mechanical keyboards.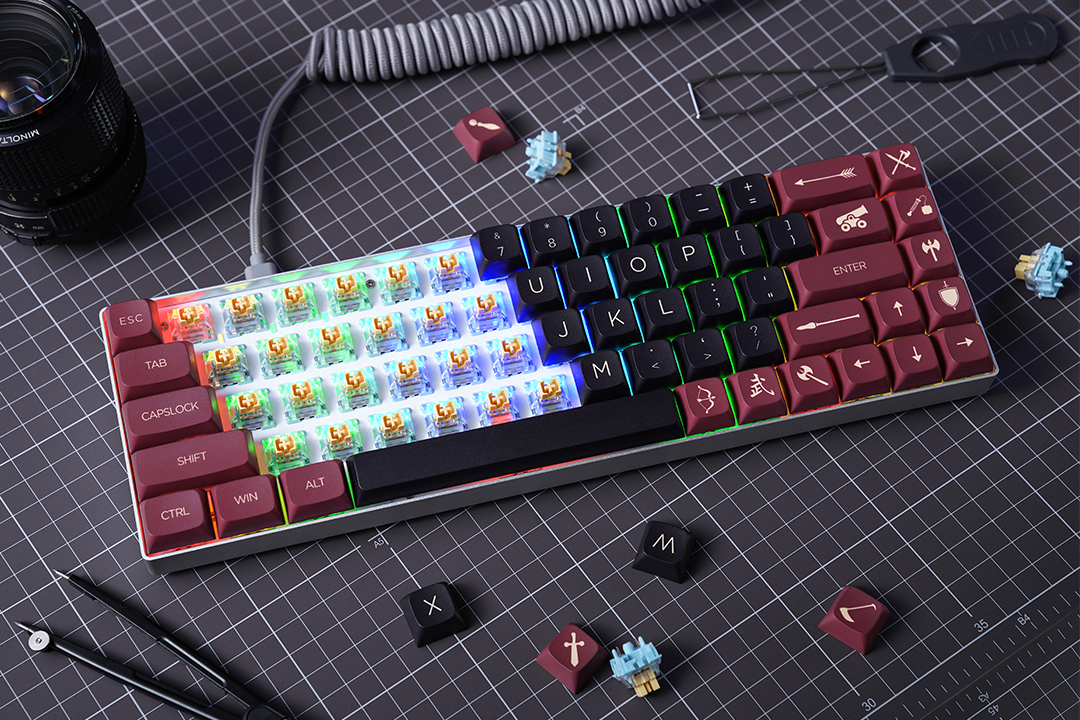 Specs
135 keycaps

Profile: XDA

Material: PBT

Keycap thickness: 1.4 mm

Dye-sublimated legends

Compatible with Cherry MX switches and clones